"I would be honored to have you as a member of my team."
To sign up to receive e-mail updates, or to volunteer, please fill out the form below
TWITTER
Tomorrow is your last chance to vote early before Election Day. Find early voting locations at https://www.votetexas.gov/voting/where. #VoteTexas #KeepTexasRed
Twitter feed video.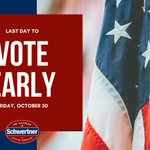 I was honored to meet with so many enthusiastic Republicans at the Robertson County GOP Chili Supper. Good food and great company!
Load More...
FACEBOOK
Tomorrow is your last chance to vote early before Election Day. Find early voting locations at www.votetexas.gov/voting/where. ... See MoreSee Less
I was honored to meet with so many enthusiastic Republicans at the Robertson County GOP Chili Supper. Good food and great company! ... See MoreSee Less
Superspreader! And lots of seniors too 🙁
Love to see a physician flagrantly disregarding public health recommendations.
Ya he's a bone doctor and people need to get off that mask bull
When was this? Many of these people look like they may be in high a risk group! Zero masks? There is an actual pandemic.
If I'd known we wouldn't be masked raped at the door, I may have come.
Shhhh, let Darwin do his thing. These fools think their dear leader knows better.
Glad you like to eat s**t Senator.
No wonder Texas is on it's way to being No. 1 in the US for Covid cases.
You're a doctor, in a crowded place with no masks in sight, during a pandemic? Yikes.
You are a Doctor where is your mask and no one is Social distancing. WHY
Great picture! So good to see you!
Wow, as a Dr., I'm sure you'll volunteer for the contract tracing that will be going on there shortly.
Sad to see a doctor and elected leader not following public health guidelines. Masks and Social Distancing are to protect others not you. It's Selfless and not Selfish, why is it so hard for so many to not want to do something to help others?
Please vote for Biden/ Democrats
Just went through the 71 photos on the Robertson County GOP Website. The Guest Speaker Pete Sessions ! Bill Flores ! Tom Holloway ! Hayden Paul ! My Texas State Senator , Special Dan Patrick Manure Spreader, Dr Charles Schwertner ! Special Guest and the Father of the Future of the Republican Party Rafael Cruz!!! All Must Be Evaluated for Mental Health And Corona Exposure!
Yeah let's just get real about something else. Besides everything else a Trump has done in his Wotless see a 47 months versus some other idiots 47 years. Along with getting everything that everybody needed because of the pandemic yes like I said the more you test the more you're going to find but until you can display all the numbers you're full of BS so all I'm saying is there is a cure and it's going to Along with everything else that he's got here at operation warp speed. You people need to give thanks for thanks it's needed he's done one hell of a job pull your head out of your backside and realize that let's get on with our lives because he's right the cure cannot be worse. Go trump 2020
Not a mask in sight, Doctor? Lord, Republicans are really killing themselves off, aren't they?
Civic engagement must go beyond voting → bit.ly/3dM5YjC. ... See MoreSee Less
This proves YOUR lack of engagement! The people have been pushing the issue of replacing property taxes pretty hard for the last 4 years, Abbott, Wilson and yourself have not listened, you won't even talk about it or explain your failure to act on the issue. The people don't have to learn the issues , you do.The people want a convention of states to empose term limits on congress, the people also want term limits at the state level. Stop only talking to far right groups and start talking to moderates, independents and everyday working folks if you want engagement.
I agree. We need to call out elected officials and bureaucrats when they commit crimes, go against the people, or act unethically. Even if it's from the party you support, you must hold them accountable!
LMAO You are one to talk, Mr Silver Spoon Dick Picture Rapist Supporter.
Load more